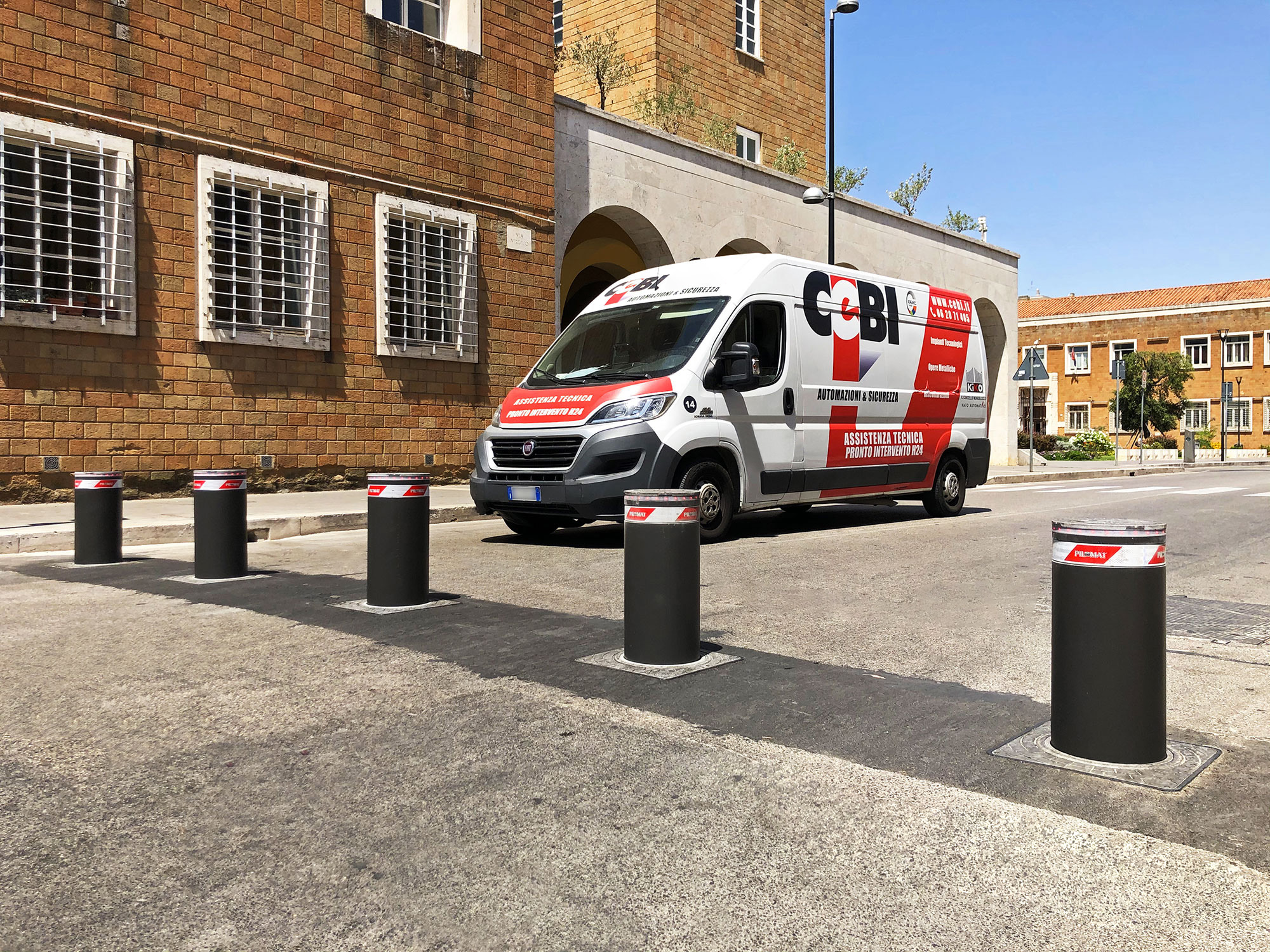 10 May

MAXIMUM SECURITY FOR PEDESTRIAN ZONES

During collective events that require the closure of the city center of Pomezia to traffic, the access of vehicles is selected by the mobile bollards of the Pilomat company.

Closing streets and squares to traffic for creating pedestrian zones requires a considerable commitment of resources and personnel. Automatic bollards are the most suitable solution to operate – even remotely – with automatic procedures and in maximum safety, both in the perimeter delimitation and in allowing access to authorized vehicles only.

The effectiveness, safety and practicality of these devices is demonstrated by their application in the urban center of Pomezia (Rome). Here, the area of Piazza Indipendenza – from the crossroads between via Roma and Largo Plinio and between via Virgilio and via Guerrazzi – is protected by automatic retractable bollards produced by Pilomat, one of the most important players in the control systems sector for vehicles. Functional, elegant and simple to use, these bollards allow the temporary closure to traffic of the historical area of the city, where the main buildings, spaces and public gardens are located and where events open to the public take place, selecting the vehicles that can access the pedestrian area.

Mario Cinelli is the Technical Director of CEBI, the company that supplied and installed the Pilomat bollards: "We won the order by participating in the tender of the Municipality, with a turnkey offer and carrying out all the works on our own, without resorting to subcontractors. The works began with the stratigraphic survey of the ground down to a depth of 2 m, by means of a non-invasive survey with ground penetrating radar. We have thus identified the presence of underground utilities in one of the areas planned for the installation, therefore the position of a group of bollards has been modified. 12 Pilomat bollards were installed at a specific distance in order to prevent access to four-wheeled vehicles, divided into two groups of 7 and 5, according to the effective width of the road."

An excavation of about 1.80 m depth was carried out to lay below the road surface the foundation boxes in which the bollards fit. Once the bollards are positioned into the pit, the wiring to the mains is carried out and connected to the management station, which is installed in a floor housing. Finally, the excavation is closed and the road surface is restored.

Emanuele Facioni (Municipality of Pomezia, Construction projects and Public Works Section) was Head of the procedure and Director of works: "The tender included specific requirements for the traffic safety, starting from the construction site. Thanks to the collaboration of the police, the traffic flow in one alternate direction was guaranteed during the works. Signaling traffic lights were provided with the aim to reduce the risk of accidental collision. In addition, each group of bollards is protected by a double magnetic loop which detects the presence of vehicles and, if the cylinder is rising, an immediate lowering command is given. The same occurs in the case of approaching vehicles equipped with approved acoustic signal. For the municipality of Pomezia it was the first installation of automatic traffic bollards. We are very satisfied both with the work performed and with the functionality of the devices, which have proved to be practical to use and efficient."
A concentrate of technology
The retractable mobile bollards installed in the urban center of Pomezia are of the Pilomat 275/P 600A model, result of a commitment of over 40 years in the security sector and a twenty-year specialization in retractable bollards.
These products are highly recommended for traffic management, suitable to allow access to pedestrian areas as well as private, business and commercial car parks, as they have a wide range of accessories and possible customizations.
The foundation box is made of steel (S235JR), while the mobile bollard (diameter 273 mm; elevation height 600 mm) is made of stainless steel (AISI 304; AISI 316) with anti-corrosion treatment and painting (anthracite gray standard, avialable also all RAL colours or brushed finish).
Extremely reliable, the hydraulic unit (IP67 protection degree) that activates the bollard is built into in the frame and uses biodegradable oil. The 230V power supply is equipped with a heating resistance. The speed is 16 cm/s (lifting) and 30 cm/s (lowering), with reverse function for accident prevention purposes. If necessary, the release solenoid valve allows manual lowering.
The command and control system is equipped with a two-channel radio receiver, transmitter and time programmer, for local (via radio control) and remote (GSM) activation. Card reader and key selector are also available.
To ensure maximum safety in operation, the bollard is equipped with:
traffic light (green and red lights);
LED lighting and visual signaling device;
intermittent buzzer;
reflective adhesive band;
Acoustic analyzer equipped with an emergency button, for automatic lowering of the bollards in the presence of emergency vehicles with approved sirens.
Pilomat bollards are tested for intensive use (2,000 cycles/day; 3,000,000 cycles in total); they can operate between -40 and 70 °C and have an impact resistance starting from 40,000 J (without deformation) up to 250,000 J (breakthrough limit). The noise level during operation is 60 dB. All Pilomat bollards are provided with approval issued by the Ministry of Transport for application on public land.